In Memory
Karl Wochner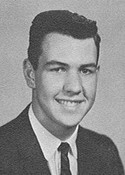 Pat Moffatt and Chuck Holly both advised of the Passing of our classmate Karl Wochner: Chuck was kind enough to write a few words about his long friendship with Karl
Deceased Classmate: Karl Wochner
Date Of Birth:
Date Deceased: 10-22-2010
Age at Death:
Cause of Death: cancer
Classmate City: Tempe
Classmate State: AZ
Classmate Country: USA
Survived By:

Karl was a good friend from elementary school thru high school. He displayed a sharp mind, a wonderful sense of humor, and accepted leadership roles when called upon. Other of his friends can tell you more about his accomplishments and leadership abilities that blossomed in his adult life, but I remember a friend who was kind and generous.
Wochner, Karl Edward

Karl Wochner, 67, died peacefully in his home October 22nd 2010 following a valiant 17 year battle with cancer. At the time of his death he was surrounded by his loving family. Karl was born January 22nd,1943 in Oxford Nebraska. He was the son of Evelyn McKain and Raymond Edward Wochner, who would later become a revered long-time educator in Arizona. The family moved to Tempe in 1952 and Karl attended Payne Training School, and later became involved and was a soloist in the Choirs at Tempe First United Methodist Church, Tempe High School and his beloved
Arizona State University
. He was student body president of both Tempe High School (1960-61) and Arizona State University (1964-65). He was a charter member of the first graduating class of the Arizona State University Law School, graduating in 1970, and went on to become President of the ASU Alumni Association. He was named an Outstanding Young Man of America in 1973. He began his career as Tempe's Assistant City Attorney for 10 years before going into private practice. It was significant to Karl to give back to his community. He was an active member of the Kiwanis Club of Tempe, where he served for 38 years. Karl served as President in 1996-97, was recognized as Mr. Interclub, and received a Hixson Fellow award from Kiwanis International, recognizing his lifetime service to Kiwanis. His eldest son David joined the Kiwanis Club of Tempe in 1994 and became the club's President in 2001-2002. They are the only father-son pair to have both served as KCOT presidents. For many years Karl was also a member of Tempe Diablos, President of the Tempe All-City Association board, a founding member of the Tempe YMCA, and Tempe St. Luke's Hospital board of directors. Karl and his wife of 25 years, Cathy, raised three sons: David, John and Mike. They were the joy of his life. He was their greatest supporter, whether it was basketball, baseball, football or school elections. Karl and Cathy remained with the church choir and sang duets together for more than 40 years. Karl later married Shar Rice and they enjoyed 17 years together. Karl's devotion to his family was ever present. He drew strength from the family as his disease progressed and became more painful. He was courageous to the end, always thinking of others and not complaining. As a life filled with honor and tempered with a deep sense of humor, this and his sons will be his legacy. Karl is survived by his three sons: David Karl (Melinda), John Edward (Laura), and Mike Harris (Donna). Also 11 grandchildren: David's Jessica, Grace and Ryan; John's Erin, Brooke, Kasey and Nathan; Mike's Clinton, Kaitlin, Madison and Makenlie. He was also survived by his brother Dean and an abundance of friends and admirers who were touched in many ways by his caring and devotion. In lieu of flowers, donations may be made to the Sanctuary Choir of Tempe First United Methodist Church, 215 East University Dr. Tempe AZ 85281. A celebration of his life will be held on Thursday October 28th at 1:30 at Tempe First United Methodist Church, with a reception following. Visitation will be Wednesday evening October 27th from 6:00-8:00 at Tempe Mortuary, 405 East Southern Ave.,Tempe.
https://view.admission.net/abc/mactive/_ARIZONAREPUBLIC_0000130061/i-1.JPG