In Memory
Ted Williams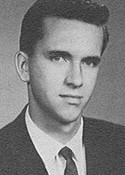 Williams, Teddy Lind Sr.
Teddy Lind Williams, Sr., 68, of Tempe, Arizona passed away on April 30, 2012. Visitation for Teddy was held 6:30 -8:30 pm, Thursday, May 3, 2012 at the Church of Jesus Christ of Latter-Day Saints, Beck Ward, 1221 W. Howe St. in Tempe. Funeral service was held at 10 am, Friday, May 4, 2012 with a one hour viewing prior at the Beck Ward. The burial followed at 2 pm at the National Memorial Cemetery of AZ.
Arrangements were entrusted to Tempe Mortuary.