In Memory
Judy Gray (Stutler)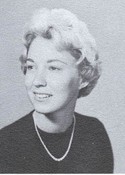 John Black provided the following:
Deceased Classmate: Judy Gray
Date Of Birth:
Date Deceased:
Age at Death: 47
Cause of Death: unknown
Classmate City: Prescott
Classmate State: AZ
Classmate Country: USA
Was a Veteran: No
Survived By: BobStutler, Maj, USMC retired

On July 28,2012 I was able to establish contact with Bob Stutler via telephone in Kansas. During the conversation, Bob informed me that Judy had died in 1990. Judy would have been around 47 if she had been born in 1943, as most of us were. I did not ask for specifics.