In Memory
Larry Fry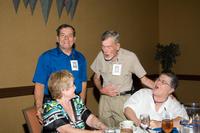 Larry Fry Update: 11/23/2019
Contact has been made with a daughter of Larry Fry. She shared the following information with me.
Larry and his wife Bonnie had two daughters, Adriene and Susie, but were divorced when the girls were younger. Larry re-established contact when the girls were in their mid-teens.
Larry passed away on October 2, 2013. He was living with his daughter Susie in Fountain Hills, Arizona. There were no Obituaries published.
Adriene mentioned she would like to have a memorial gathering next year (2020) on the anniversary of Larry's passing. Adriene has been added to the tempe61.com web site as a guest with full visitation privileges. She will be able to advise the class of the memorial event when plans are finalized.
Larry received a degree in English Literature from Arizona State University.
As far as a career path, not a great deal is known. Larry was living in San Jose and did an early retirement from a firm called Litton Industries. As Larry was a very private person, little information is available.
Sylvia Fry, Larry's younger sister, died of lymphoma several years before Larry.
Dan
John Pritchard advised of the Death of fellow classmate Larry Fry. John is attempting to contact Larry's daughters to get additional information.
John states that Larry passed away several years ago but there is no information available. We have checked with both the Tucson and Phoenix papers for information but have found no information/obituary for Larry's passing. If anyone has additional information please foreward it on to this site.
Further information will be added as received.
Top Photo: John and Larry with Linda Pritchard and Meg Heisel
Bottom Photo: Duane Strebe, John Pritchard, and Larry Fry