Tempe

High School




Class Of 1961
Welcome To The Official
Tempe Union High School Class Of 1961
Reunion and Historical Site

!




We welcome all fellow classmates to this site. Many former classmates were only with us for a short time. All are welcome to join our group and share memories of friends, teachers and Tempe High. Our motto "Once a Buffalo, Always a Buffalo." The herd welcomes you and is eager to see you in our future reunions and get togethers.

Joining is easy, locate your name in the "Classmate Profiles," sign in, tell us about yourself, include a photo or two, and then check out the site.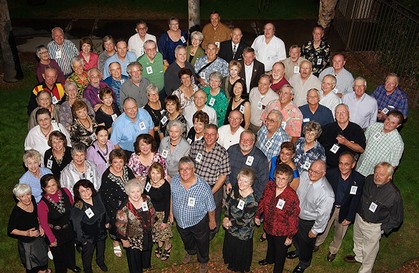 We Got the Herd Back Together
After 50 Years!
Saturday

evening, a group shot before the dinner.
Photo by Diedre Engle
For more reunion pictures, click "50 Year Reunion Pics" on the left.
We now have the "40 Year Reunion" available too.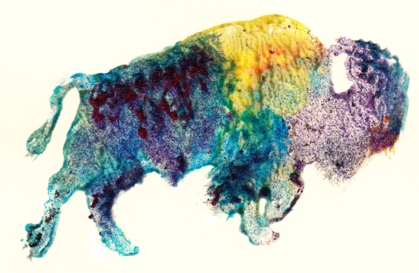 A recent visit to Taos New Mexico found the above image by Patrick A. Trujillo, Mixed-Media Artist. Contact Patrick at P.O Box 1704 El Prado, NM 87529 or email him at p.trujillo03jenn@gmail.com. His studio is in the Pueblo. Look for Mountain Bird Singing

Special Announcements!
ANNOUNCEMENTS
•

Fall 2020 Coffee & Conversation

Coffee & Conversation

Things (CV19) should be settled down by Thursday, October 22nd, 2020. Meet up with classmates and friends from the TUHS class of 1961 at PANERA BREAD. Meeting will be called to order around 9:00 AM but come early and stay late. The no host event is a celebration of the 9th anniversary of our 50th Reunion. You don't need a slide rule/calculator to figure out that's 59 years since we left TUHS.

The PANERA BREAD is located at 1825 E. Guadalupe Rd, Tempe, Arizona.

A big question, will there be a 60th Reunion? If anyone would like to head up an exploration committee, contact the class by using the Message Forum. Resources are available including some seed monies left over from the campaign to support the web site. Other resources include on our web site includes a "Reunion Planner, Event Planner, and Survey Planner" functions included with the tuhs61.com webb site.

You can also contact Dan Clark, directly by email

P.S. We usually "pass the hat" for tips for the staff at Panera that puts up with us.

•

September Birthdays

Gwen Owens Huffman, 9/3

Linda Fuller Wells, 9/7

Tom Turner, 9/7

John Radcliffe, 9/8

Sandy Bufford Miller (Class of 1960), 9/10

John Farrington, 9/10

Margaret Hyer Heiser, 9/11

Herb McLure, 9/18

Ed Romine, 9/18

Ronald Carr, 9/20

Robert (Bob) Comton, 9/20

Ralph Bell, 9/24

Gene Carter, 9/24

Ray Huffaker, 9/28

•

The following Tempe High School Class of 1961 have contributed to keep this website shining and active until August, 2032!

Tom & Akami Krill

Billy Black

Chuck Holly

Pete Wood

Susan (Coulson) Condon

David Short

Lorene (Hancock) Eagar

Bob Mahr

Dick Erickson

Herb & Jane (Rosio) McLure

Jim & Akiko Austin

John Black

Ralph Kerfot

Louise (Bonenberger) Snell

Dena (Stormont) Lasater

Ralph Bell

Faye (Brown) Felts

Molley (Wetmore) Lowry

William Black

Irene Hobbs

William Bill Thomas

Barbara (Brock) Carlson PhD

Edward "Ed" Garcia

Sharon & Gene Carter

John Farrington